Houston Texas New Seafood Restaurant Cajun Seafood Boil Now Open and We Are Known For Our Famous Secret Juicy Special ™ Sauce
Theo tin hay prweb.com
Addictive New Seafood Restaurant The Juicy Crab ® is taking Houston by storm will provide a new type of foodie experience unlike any other. Visited by the likes of Tyler Perry and others and our guests love to see our Famous Photo Wall. The "Juicy Special" ™ seasoning is so addicting in this New Orleans Style seafood boil.
HOUSTON (PRWEB) JUNE 25, 2019
The Juicy Crab ® Cajun Style Seafood Boil Restaurant is headquartered in Atlanta, GA is proud to announce their first location in Houston, Texas; is now open as of June 2019. This seafood boil restaurant offers a unique foodie experience unlike no other.
The Juicy Crab seafood brand has been recognized from Best of Gwinnett twice over, by its readers. The Juicy Crab has been featured on Atlanta Eats CBS Network Peachtree TV. It is hosted by Food Network's judge; Steak Shapiro, a judge on 'Food Truck Face Off'. On the Atlanta Eats food review segment, Steak Shapiro mentions, "…it's all about the sauce".
Celebrities love to drop in The Juicy Crab ® of such likes of, Tyler Perry, Bravo's 'Atlanta Housewives', and VH1 'Love & Hip Hop ATL' TV shows. Others include; Waka Flocka Flame, Bernice King, Clinton Powell, Yung Joc, and Dwight Howard, to name a few. So a stop in The Juicy Crab ® and view their Famous Photo Wall is a must see for any fan.
History: The Juicy Crab ® story starts long before the opening of the Duluth, Georgia's first corporate restaurant in 2015. The Chen family's inspiration ultimately came from New Orleans and from the world travels of Grandfather Chen. Grandfather Chen was a sailor who traveled the world, learning many different styles and ways of cooking seafood. One of the main influences that every family member loved, was the New Orleans Style way of cooking seafood, and The Juicy Crab ® wants to share it with everyone.
The Juicy Crab ® tagline reads "Juicy Never Tasted So Good" ™. The Juicy Special™ sauce is a blend of secret seasonings will have any guest coming back for more! Todd Strickland, VP of Marketing and Franchise Sales states, 'We welcome you to sit at our family table and will always treat you like a part of our family'. Find more information about our brand at http://www.TheJuicyCrab.com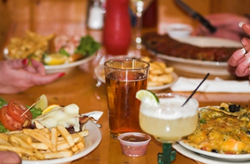 https://www.prweb.com/releases/houston_texas_new_seafood_restaurant_cajun_seafood_boil_now_open_and_we_are_known_for_our_famous_secret_juicy_special_sauce/prweb16387902.htm
Note: We are not responsible for typo error, price change, substitute item, or available of item from online ads.
Lưu ý: Chúng tôi không chịu trách nhiệm về lỗi ấn, thay đổi giá, hàng thay thế, hoặc có sẵn mặt hàng quảng cáo.