Bielat Santore & Company: Cấm trẻ em tại nhà hàng có hại cho doanh nghiệp không?
Theo tin Bielat Santore & Company hay prweb.com
Bielat Santore & Company: Is Banning Kids at Restaurants Bad For Business?
While many restaurants boast that they are "kid-friendly," welcoming families with little ones, some restaurants do the opposite by enforcing age restrictions with their diners.
ALLENHURST, N.J. (PRWEB) AUGUST 16, 2019
Unless dining at a Chuck-E-Cheese or any eatery with a children's play place attached to it, people generally wouldn't expect their quiet evenings to be disrupted by screaming kids in the middle of the restaurant dining room. However, sometimes this does happen, leaving customers upset and rethinking next week's dinner options. While many restaurants boast that they are "kid-friendly," welcoming families with little ones, some restaurants do the opposite by enforcing age restrictions with their diners.
In 2011, Mike Vuick, owner of Pittsburgh-area restaurant, McDain's, was on the side of the customers dining without children in tow when he banned kids under 6-years-old from eating at his restaurant. According to Eater, Vuick sympathized with guests who opted to leave their children at home with a babysitter so they could enjoy a hot restaurant meal, only to be interrupted by rowdy children at the next table. After several incidents involving youngsters running around the restaurant and almost knocking over servers carrying hot liquids, he decided to close the door to children all together.
Alexandria, Virginia restaurant, The Sushi Bar refrained from serving anyone under 18-years-old when they opened in 2013, on behalf of the parents who they say needed a night away. Reported by Today, the owner believed that parents deserved to dine out at a location forcing even their eldest children to stay home. A Monterey, California restaurant got some flak from angry customers with a sign that they had up for years. The sign at Old Fisherman's Grotto prohibits strollers, high chairs, and booster chairs while clearly stating that crying children will not be tolerated in their dining room. And most recently, Tampa Bay craft beer bar & pizzeria, Hampton Station, stuck a sign on its doors excluding minors, expressing that their concerns are for the safety of the children due to their close proximity to a busy highway.
Are these harsh actions taken by restaurateurs towards children hurting their businesses? Not really. Although kids were outlawed from eating at McDain's, the response Vuick received overall was supportive and overwhelmingly positive. Turns out, many guests enjoyed not having to worry about kids spoiling their dinner by banging into the back of their chairs mid slurp of their soup. Today, more small, intimate establishments are adopting the age restriction policy while larger eateries have more space to accommodate children.
Parents choose The Sushi Bar when they are looking for a night with less picky eaters at the table and more adult options on the menu – bringing home take-out meals for the kids makes everyone happy. As for the sign at the 70-year-old Old Fisherman's Grotto, which is known for their quiet dining, it is meant as less of a taboo towards children and more as a warning to parents, stressing that children are welcome if they are well-behaved. And diners in Tampa Bay praised the Hampton Station for ensuring the safety of their customers by applauding them in Yelp reviews.
These aren't the only restaurants refusing service to juveniles, others are just subtler in their approach. Many eateries support the policy but do not advertise it. Instead, they do not offer booster seats, high chairs or a children's menu, hoping that parent's get the hint.
Before arriving for a family night out, it is suggested to check with the eatery what their policy is about dining with kids. Otherwise, leave a babysitter on speed dial for the evenings when dining without the kids sounds like just what the doctor ordered.
About Bielat Santore & Company
Bielat Santore & Company is an established commercial real estate firm. The company's expertise lies chiefly within the restaurant and hospitality industry, specializing in the sale of restaurants and other food and beverage real estate businesses. Since 1978, the principals of Bielat Santore & Company, Barry Bielat and Richard Santore, have sold more restaurants and similar type properties in New Jersey than any other real estate company. Furthermore, the firm has secured in excess of $500,000,000 in financing to facilitate these transactions. Visit the company's website, http://www.123bsc.com for the latest in new listings, property searches, available land, market data, financing trends, RSS feeds, press releases and more.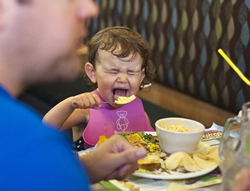 https://www.prweb.com/releases/bielat_santore_company_is_banning_kids_at_restaurants_bad_for_business/prweb16511299.htm
Note: We are not responsible for typo error, price change, substitute item, or available of item from online ads.
Lưu ý: Chúng tôi không chịu trách nhiệm về lỗi ấn, thay đổi giá, hàng thay thế, hoặc có sẵn mặt hàng quảng cáo.