Newest NORMS Restaurant Opens in El Monte, CA July 20th
Posted On July 17, 2018
Theo tin NORMS hay prweb.com
Iconic SoCal family dining restaurant adds nearly 200 local jobs
EL MONTE, CALIF. (PRWEB) JULY 17, 2018
NORMS, a SoCal family dining tradition since 1949, will celebrate the Grand Opening of its newest restaurant, located at 10620 Valley Blvd. in El Monte, CA, on Friday, July 20th, starting at 7:00am.
El Monte Mayor Andre Quintero stated, "I'm thrilled to celebrate the Grand Opening of NORMS in our City of El Monte. It has taken a long time, but through hard work and perseverance, we made it happen. Now families can come together for a meal and enjoy time together at the place where life happens 24/7." Mayor Pro Tem, Juventino "J" Gomez, commented, "The addition of NORMS to the El Monte Family signifies an important investment in our community. We will be able to provide many new job opportunities, and of course, savory meals all hours of the day and night." Norma Marcias, El Monte Councilmember, echoed the sentiment – "We are ecstatic to welcome NORMS to our community. Everyone is eager to enjoy flavorful new breakfast, lunch and dinner options."
The El Monte community is also enthralled with this iconic establishment's ability to
provide more flare and fun to the historic city. "NORMS Restaurant is an economic catalyst for the City of El Monte," mentioned Councilmember Victoria Martinez, "drawing more of our community to the historic Downtown shopping area. We welcome NORMS with open arms." Sharing in the excitement, Councilmember Jerry Velasco stated, "The community has been asking for the iconic NORMS and it is finally here. I look forward to seeing our neighbors at NORMS, where families come together."
Mike Colonna, President of NORMS Restaurants, LLC, will be on hand to greet customers during this Grand Opening event. He noted, "We're thrilled to expand our NORMS family into this great city. El Monte was chosen because of its close connections to family and community – values we share at all our NORMS Restaurants. This latest opening also means we will be filling nearly 200 new job positions, many of them full-time, and most of them from the El Monte community."
NORMS will now operate a total of 18 restaurants in Southern California, with two additional openings scheduled for later this year in Carson and Inglewood. In 2019, four more NORMS will open in Rialto, Encino, Westwood, and Northridge.
Along with advanced job opportunities and industry-leading training programs, NORMS offers highly competitive pay and benefits for both full-time and part-time positions. NORMS employees have a reputation for satisfaction and low turnover and have worked for the company an average of twelve years. Visit the NORMS career page at http://www.normsrestaurants.com/careers to learn more.
About NORMS
NORMS Restaurants made its debut in 1949 near the famed corner of Hollywood and Vine. Open 24 hours a day, seven days a week, for breakfast, lunch, dinner and everything in between, NORMS is a family dining tradition with 18 locations throughout Southern California. NORMS restaurants are as well known for their iconic Googie architecture as they are for great service, great food and great value. Along with consistent, friendly service and a welcoming environment, NORMS is committed to exceptional quality food, scratch-made recipes, generous portions and affordable pricing. For more information, visit NORMS/Careers
About CAPITALSPRING (Majority Owner of NORMS)
Founded in 2005, CapitalSpring is a private investment firm focused exclusively on the restaurant industry. The Firm currently manages assets of approximately $1.3 billion and has completed investments in over 50 different restaurant brands and more than 4,000 restaurant locations. CapitalSpring focuses on supporting proven restaurant operators with a range of structured credit and private equity solutions and has offices in Nashville, Los Angeles, Atlanta, and New York. For more information about CapitalSpring, please visit http://www.capitalspring.com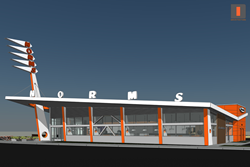 https://www.prweb.com/releases/2018/07/prweb15631342.htm
Note: We are not responsible for typo error, price change, substitute item, or available of item from online ads.
Lưu ý: Chúng tôi không chịu trách nhiệm về lỗi ấn, thay đổi giá, hàng thay thế, hoặc có sẵn mặt hàng quảng cáo.