Restaurant Sales Continue Slow and Steady Uphill Climb
Posted On July 17, 2018
Theo tin hay prweb.com
Year-over-year chain restaurant sales increased 1.1 percent in June, the fourth consecutive month of positive or flat comp sales. These insights come from TDn2K's Black Box Intelligence™ data, based on weekly sales from over 30,000 locations representing 170+ brands and nearly $70 billion in annual sales.
DALLAS (PRWEB) JULY 14, 2018
Year-over-year chain restaurant sales increased 1.1 percent in June, the fourth consecutive month of positive or flat comp sales. The increases compare to relatively soft prior year numbers, but continue to suggest a turning point from the consistent declines of 2016 and 2017. Performance began to improve in the fourth quarter of 2017 and the industry has reported monthly sales increases in six of the past nine months. These insights come from TDn2K's Black Box Intelligence™ data, based on weekly sales from over 30,000 locations representing 170+ brands and nearly $70 billion in annual sales.
The comp sales numbers are encouraging, but come against a backdrop of continued softness in guest counts. Store traffic declined -1.7 percent in June. This is an improvement of roughly one percentage point over trends from earlier in the year, but it points out the headwinds faced by the industry with respect to driving visit frequency.
Same-store sales in the second quarter of 2018 were up 0.8 percent, the third consecutive quarterly increase and another indication of a strengthening industry environment. Growth was consistent throughout the period with positive sales in 12 of the 13 reporting weeks.
Traffic was down -2.0 percent, a slight improvement over the -2.6 percent drop in the first quarter.
Off-Premise Sales Fuel Growth in 2018
Year to date, sales are up 0.5 percent in 2018 versus a -1.2 percent decline at this point last year. All segments except fine dining were stronger in 2018. Compared to 2017 performance, casual dining and fast casual reported the most improvement.
The numbers reflect a changing landscape with respect to how consumers use chain restaurants. Virtually all the observed gains have come from to-go and delivery sales. Every segment recorded a decline in dine-in sales and every segment except family dining and quick service experienced to-go sales increases. Fine dining and upscale casual reported large percentage increases, but off-premise is a relatively small portion of their business. Their in-unit sales were the strongest in the industry and reflect the importance of a dining experience to consumers visiting those brands. The degree to which they can expand food delivery remains to be seen.
The casual dining segment reported double-digit increases in to-go sales so far in 2018. Many of these brands already have significant existing off-premise businesses and are capitalizing on a variety of social media and technical innovations to exploit additional to-go and delivery opportunities.
Top Line Driven by Pricing
Check average is up significantly this year. For the first six months of 2018, average check is up 2.9 percent versus 2.2 percent for the same period last year. Price increases, largely in response to higher labor costs, are certainly a factor. But a large portion of the change in average check is attributable to casual dining, which may be influenced by the previously noted increase in to-go and delivery.
Economy is Robust, But Tariffs Loom
"The stronger growth in the second quarter was broad-based and has supported robust hiring," according to Joel Naroff, president of Naroff Economic Advisors and TDn2K economist.
"With more people working and wages rising a little faster, consumers are spending again. The good news for the restaurant industry is that households are not over-extending themselves as much as they had been. They are now saving a little more as well as spending more. That means the improved demand at restaurants should be sustained. The only risk to the economy is the emerging trade war. Right now, it is largely a skirmish that should not affect economic activity significantly. But if the tit-for-tat on tariffs accelerates, growth could be harmed, inflation could accelerate and interest rates could rise even further. The best guess is that it will not reach that stage, so expectations are that the economy and consumer spending will be solid the rest of the year. That bodes well for restaurant sales."
The Downside of a Robust Labor Market
Unfortunately, the same strong labor market that propels restaurant spending has also produced the most challenging staffing environment in many years. Turnover at both the hourly and management levels is at record highs and has become the "new normal". Data from TDn2K's People Report™ provides little comfort that market conditions will change soon.
Accordingly, brands are struggling to adapt their service models to the new reality of low unemployment and rising wages. This is an especially difficult balancing act. Margins are always a priority, but experienced operators are well aware of the established linkage between quality service, consumer sentiment and revenue.
The upswing in sales is welcome news. General economic conditions are a bit fragile but should be favorable enough to support continued demand. There are fundamental challenges facing the industry, including difficult labor markets and an over-supply of restaurants. Nonetheless, we are encouraged that top-performing brands consistently find ways to deliver strong results in sales, people metrics, and social sentiment.
TDn2K™ (Transforming Data into Knowledge) is the parent company of People Report™, Black Box Intelligence™ and White Box Social Intelligence™. People Report provides service-sector human capital and workforce analytics for its members monthly. Black Box Intelligence provides weekly financial and market level data for the restaurant industry. White Box Social Intelligence delivers consumer insights and reveals online brand health. TDn2K membership represents 43,000 restaurant units, 2.5 million employees and nearly $70 billion in sales. They are also the producers of leading restaurant industry events including the Global Best Practices Conference held annually each January in Dallas, Texas.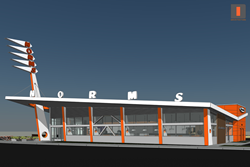 https://www.prweb.com/releases/2018/07/prweb15631342.htm
Note: We are not responsible for typo error, price change, substitute item, or available of item from online ads.
Lưu ý: Chúng tôi không chịu trách nhiệm về lỗi ấn, thay đổi giá, hàng thay thế, hoặc có sẵn mặt hàng quảng cáo.