Bielat Santore & Company: Chain Restaurants That Are Calling It Quits
Posted On July 2, 2019
Theo tin hay prweb.com
Many popular chain establishments are closing locations throughout the country
ALLENHURST, N.J. (PRWEB) JUNE 28, 2019
Good news for independent restaurant owners who for years have worked hard to compete against half price appetizer specials and the high-volume of chain establishments conveniently placed at every corner; many of these popular chain locations are calling it quits. Several reports have announced the closing of many well-known eateries as the franchisees fight to keep performance up at their remaining locations throughout the country. Restaurants such as Chili's, Applebee's, Qdoba, Burger King, Outback Steakhouse, among others are shutting their doors at various locations, many right here in the Garden State.
Americans have been enjoying the quick-service concept for almost 100 years. White Castle was the first on the scene offering slider-style burgers – also known as their famed Murder Burgers – at affordable pricing. They opened their first shop in 1921 in Wichita, Kansas before taking off to the hugely successful fast food restaurant we know today. Kentucky Fried Chicken still makes us salivate as commercials frequent our television screens advertising the chicken recipe formulated by Colonel Sanders in Corbin, Kentucky in 1930. And Dunkin Donuts evolved since its creation in 1950 as many people's go-to spot to refuel with a cup o' joe. The experience soon became less about indulging in doughnuts, prompting the company to shorten its name to Dunkin in 2018.
The quick-service concept made Wednesday night dinners easier than ever, and with multiple locations popping up within eye view every time anyone steps outside, chain restaurants became many people's main dining destination. Aside from the easy drive-thru and take-out options that made grabbing food easy on the go, people also favored casual sit-down restaurants like Cracker Barrel and Texas Roadhouse, two franchises that have grown tremendously over the years. The inexpensive meals and kid-friendly environments are a selling point for families looking for a night out; In addition to country home-style cooking, the Cracker Barrel also offers games and a gift shop for kids to enjoy at their locations, while America's favorite steakhouse, Texas Roadhouse welcomes a mess as guests are encouraged to sweep peanut shells onto the floor.
Unfortunately, for employees working at many of these chain restaurants, some locations are closing up shop. Fans of Taco Bell, Subway, McCormick & Schmick's and Red Robin, may want to check to see if that location is still in business first before loading the family up in the car. According to Moneywise.com, Taco Bell has closed half a dozen locations this year as Subway's numbers continue to fall vacating at least 1,100 sandwich shops around the county. Even the upscale seafood and steak restaurant, McCormick & Schmick's is not safe after at least 6 closures in 2019, while Red Robin whose primary locations are within shopping malls are shutting down 10 of its restaurants. And there are quite a few more chains that are sinking fast.
But why are so many beloved chains disappearing? There are many reasons for the chain industry's rapid downfall. FoodNewsFeed.com reports that location is a big factor with grappling high rents in retail malls, strip malls and declining customer traffic. Also, delivery services have created less of a need for sit-down eateries as more people are choosing to dine from the comforts of their homes. MyCentralJersey.com recently announced some New Jersey restaurant sites that have succumbed to the dying industry including multiple locations of Ruby Tuesdays, TGI Fridays, Tilted Kilt Pub, and Roy Rogers.
As there may be less Joe's Crab Shack's and IHOP's to eat at, this leaves room for consumers to opt for more traditional dining experiences at their local tavern or Italian restaurant. Bielat Santore & Company previously compiled at list of reasons why dining at an independent restaurant provides greater benefits to customers. Not in the mood to eat out? Many local restaurants work with various delivery services as well. It's a win win.
About Bielat Santore & Company
Bielat Santore & Company is an established commercial real estate firm. The company's expertise lies chiefly within the restaurant and hospitality industry, specializing in the sale of restaurants and other food and beverage real estate businesses. Since 1978, the principals of Bielat Santore & Company, Barry Bielat and Richard Santore, have sold more restaurants and similar type properties in New Jersey than any other real estate company. Furthermore, the firm has secured in excess of $500,000,000 in financing to facilitate these transactions. Visit the company's website, http://www.123bsc.com for the latest in new listings, property searches, available land, market data, financing trends, RSS feeds, press releases and more.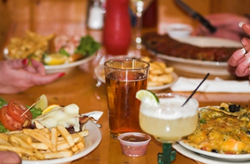 https://www.prweb.com/releases/bielat_santore_company_chain_restaurants_that_are_calling_it_quits/prweb16413626.htm
Note: We are not responsible for typo error, price change, substitute item, or available of item from online ads.
Lưu ý: Chúng tôi không chịu trách nhiệm về lỗi ấn, thay đổi giá, hàng thay thế, hoặc có sẵn mặt hàng quảng cáo.