Gót chân tháng 8 Achilles cho ngành công nghiệp nhà hàng: doanh số bán hàng cùng cửa hàng là -0,7% , số lượng khách mình giảm -3,9% và giữ chân nhân viên trong thị trường lao động
Posted On September 10, 2019
Theo tin TDn2K hay prweb.com
August's Achilles Heel for Restaurant Industry: Sales, Traffic & Employee Retention
Same-store sales growth was -0.7 percent during August, same-store traffic growth was -3.9 percent. This update comes from Black Box Intelligence™ data from TDn2K™, based on weekly sales from over 31,000 locations representing 170+ brands and nearly $72 billion in annual sales.
DALLAS (PRWEB) SEPTEMBER 06, 2019
The sales slowdown continued for the restaurant industry in August as same-store sales fell again year over year. Growth was -0.7 percent for August, the second consecutive month in which the industry failed to grow its same-store sales. The last time the industry experienced two consecutive months of negative same-store sales growth was in January and February of 2018, when the weak sales could be largely attributed to bad winter weather. The latest disappointing results could not be attributed to any external factors, thus raising questions about the current health of the industry. This update comes from Black Box Intelligence™ data from TDn2K™, based on weekly sales from over 31,000 locations representing 170+ brands and $72 billion in annual sales.
Even though the latest results are discouraging for restaurants, they are not surprising. As the industry is into the second half of 2019, the sales comparisons become tougher year over year, given the industry's stronger performance during the last two quarters of 2018.
"August's same-store sales growth compared with the same month two years ago is actually an encouraging 1.2 percent," commented Victor Fernandez, vice president of insights and knowledge for TDn2K. "The industry's sales continue to be better than they were two years ago in comparable stores. Since the beginning of the year, only two months (February and July) have posted negative sales growth on a two-year basis. Between August 2017 and December 2018, only October – December of 2018 achieved two-year positive same-store sales growth. In other words, the industry's performance has held up in recent months from a longer term perspective, but in this new world of persistently eroding guest traffic, strong year-over-year sales growth performance is simply not possible every year. A period of strong sales growth such as 2018 should be expected to be followed by a softer year, as we've seen so far in 2019."
Traffic: The Achilles Heel of the Industry
Same-store traffic growth was -3.9 percent in August. Along with -4.0 in July, the industry just experienced the two worst months in almost two years based on year-over-year traffic growth. The stark reality is that the average restaurant continues to see it's guest counts dwindle every year since the recession. If the industry is to consistently post healthy sales growth, this guest erosion needs to be solved.
Increasing average guest checks, even accelerating their growth in recent months, was not able to push the industry into positive sales growth territory given the abysmal traffic results during the last two months.
However, it is important to note that August of 2018 had the strongest traffic growth results of last year, albeit still negative. This meant a tough comparison to lap over. Much as what was discussed for sales, current traffic performance remains relatively unchanged when calculating growth on a two-year basis. August's same-store traffic growth compared with August of 2017 was -4.6 percent; the average for the previous twelve months. "There is little comfort in knowing the industry keeps losing guests at the same pace as it has been for the last year," continued Fernandez, "but at least the bleed is not getting worse."
Fine Dining Continues To Outperform All Segments
Fine dining was the best performing segment based on same-store sales growth during August. For the last few years, guests looking for an upscale dining experience and that have the income to spend have responded well to the offerings by fine dining chain restaurants. This segment is also the top performer based on sales growth year to date and among the top two performing segments in each of the last two years.
The only other segment that was able to post positive same-store sales growth during August was family dining. This segment has been experiencing a sales resurgence since 2018.
Labor Market Key to Continued Consumer Spending; Recession an Emerging Threat
"The trade battle between the U.S. and China is creating enough collateral damage that there are now worries that a global economic slowdown is nearing," stated Joel Naroff, president of Naroff Economic Advisors and TDn2K economist. "The U.S. economy continues to expand, but with new tariffs being imposed and more possible, the future is more uncertain. Europe is being battered by the weakening in its two major trading partners. Japan is hurting as well. The U.S. manufacturing sector is faltering. Indeed, the only positive segment of the economy is consumer spending. That is being supported by a solid job market and decent income gains."
"But, payroll increases have slowed and the decline in the unemployment rate has stopped, raising questions about whether consumer confidence can remain high enough to sustain the spending. The labor market is the key. If jobs remain plentiful, households will have the funds to keep growth going. If it falters, it would likely take a sudden end to the trade war to prevent a recession."
Employee Retention Still Troubling; Training and Development Part of Potential Solution
Restaurants are now adding declining sales growth to the challenge they have been wrestling with for years. Finding and retaining enough employees to keep restaurants fully staffed persists as one of the biggest headaches for operators according to the latest results from TDn2K's People Report™. In July, rolling 12 month turnover rates for restaurant hourly employees and managers increased once more, keeping the industry at historically high levels.
Continued job growth coupled with difficulty finding capable job candidates has resulted in an increase in unfilled positions across the industry. Based on TDn2K's Workforce Index, limited service brands (quick service and fast casual restaurants) have felt the most pressure on this front. While 29 percent of full service restaurants reported an increase in vacancies at the management level, 38 percent of limited service reported an increase. At the restaurant non-management level, 27 percent for full service and 44 percent for limited service reported an increase.
Compensation has typically been the key lever to use when competing for talent in an increasingly tight environment. But successful operators recognize that the employee value proposition goes well beyond pay. When asked what works to improve employee retention at all levels within their restaurants, operators frequently mention things like improved training as well as career development. And the data supports these responses. A recent TDn2K analysis revealed restaurant brands that invest in their managers' leadership development and spend time training them on HR specific topics results in lower turnover.
Looking Ahead
The restaurant industry is expected to experience weak sales and traffic growth results for the last third of the year. Average same-store sales growth for the last four months of 2018 was 1.3 percent, compared with an average of 0.5 percent for the first months of last year. Given these tougher comparisons in the months ahead, small positive sales growth is a best-case scenario for the rest of the year. Flat to declining sales growth is a distinct possibility, especially if consumer confidence begins to suffer as news of trade wars continue fanning the recession flames.
Adding to the negative outlook for next month's results is the fact that major areas of the country are being evacuated and possibly devastated by another major hurricane. This will undoubtedly hurt restaurant sales, particularly in those areas directly affected on the Atlantic coast. But restaurants in those areas hit by the storm are expected to see a jump in their sales in the recovery period in the months ahead.
You are receiving this email because your company is subscribed to TDn2K services.
TDn2K (Transforming Data into Knowledge) is the leading insights & knowledge provider of restaurant industry human resources, financial performance and consumer insights data through their products People Report™, Black Box Intelligence™ and White Box Social Intelligence™. TDn2K allows organizations to leverage benchmarked data to achieve best-in-class performance results. TDn2K currently tracks, analyzes and benchmarks the largest database of real restaurant data in the US that includes 300 companies, over 2.7 million employees and nearly $72 billion in annual revenue. TDn2K also produces the Global Best Practices Conference held annually each January in Dallas, Texas.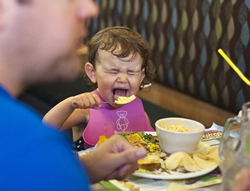 https://www.prweb.com/releases/augusts_achilles_heel_for_restaurant_industry_sales_traffic_employee_retention/prweb16551790.htm
Note: We are not responsible for typo error, price change, substitute item, or available of item from online ads.
Lưu ý: Chúng tôi không chịu trách nhiệm về lỗi ấn, thay đổi giá, hàng thay thế, hoặc có sẵn mặt hàng quảng cáo.