Chào mừng lễ khai trương Pizza One Tri-County tại Sparta với $ 1 Bất kỳ lát
Posted On July 12, 2020
Theo tinPizza One hay prweb.com
Chào mừng lễ khai trương Pizza One Tri-County tại Sparta với $ 1 Bất kỳ lát
SPARTA, N.J. (PRweB) NGÀY 08 THÁNG 8 NĂM 2020
Được bình chọn là Pizza ngon nhất ở khu vực Tri-County, Pizza One mang đến sự pha trộn độc đáo giữa nấu ăn kiểu Ý truyền thống và ẩm thực hiện đại cùng nhau tạo ra những bữa ăn ngon cho mọi người thưởng thức. Vị trí Sparta mới khai trương nằm trong trung tâm mua sắm Shoprite mới. Để ăn mừng, Pizza One sẽ tổ chức Lễ khai mạc ngoài trời vào ngày 11 tháng 7 từ 5 giờ chiều đến 8 giờ tối và 12 giờ trưa đến 7 giờ tối. Sự kiện này sẽ có "Đầu bếp hát" làm Mozzarella tươi, quà tặng, bóng bay nhân vật và $ 1 cho bất kỳ lát cắt nào! Mang tất cả mọi người và đến ăn mừng sự kiện khai trương Pizza One hoàn toàn mới! Tất cả các biện pháp phòng ngừa xã hội và an toàn thích hợp sẽ được tuân theo.
Pizza One không chỉ là pizza! Pizza One được thành lập vào năm 2005 dưới dạng một cửa hàng bánh pizza nhỏ và hiện đã mở rộng ra ba địa điểm với việc dùng bữa, mang đi và giao hàng miễn phí! Chúng tôi là một nhà bếp hiện đại của Ý với nhiều công thức nấu ăn cũ được truyền lại từ gia đình của chúng tôi. Hầu hết các món ăn của chúng tôi đến từ miền nam nước Ý ở Calabria nơi cha mẹ chúng tôi được sinh ra. Chúng tôi đã bắt đầu một thương hiệu với Pizza One để cung cấp dịch vụ nấu ăn truyền thống của người Ý với một bước ngoặt hiện đại. Chúng tôi chỉ sử dụng các thành phần chất lượng cao để tạo ra các công thức nấu ăn mới thay đổi theo xu hướng. Niềm đam mê của chúng tôi được nhìn thấy trong thực phẩm của chúng tôi. Cho dù bạn dùng bữa, mang đi, hoặc cần một bữa tiệc phục vụ, chất lượng của chúng tôi sẽ luôn để lại ấn tượng lâu dài. Từ pizza đặc sản của chúng tôi đến món salad cho người sành ăn của chúng tôi có một cái gì đó cho mọi người thưởng thức. Chúng tôi tự hào là một nhà hàng do gia đình sở hữu và điều hành và chúng tôi có một triết lý mạnh mẽ.
Đặt nhu cầu và mối quan tâm của khách hàng lên trên tất cả. Pizza One là nơi chất lượng và số lượng!
Celebrate the Tri-County's #1 Pizza opening in Sparta with $1 Any Slice
SPARTA, N.J. (PRWEB) JULY 08, 2020
Voted Best Pizza in the Tri-County Area, Pizza One brings a unique blend of traditional home-style Italian cooking and modern cuisine together creating delicious meals for everyone to enjoy. The newly opened Sparta location is located in the new Shoprite shopping center. To celebrate, Pizza One will be hosting an outdoor Grand Opening Celebration on July 11th 5pm to 8pm and 12th 4pm to 7pm. The event will feature "The Singing Chef" making Fresh Mozzarella, giveaways, character balloons and $1 for any slice! Bring everyone and come celebrate the opening of the brand new Pizza One! All proper social distancing and safety precautions will be followed.
Pizza One is more than just pizza! Pizza One was established in 2005 as a small takeout pizzeria and has now expanded to three locations with dine in, take out, and free delivery! We are a modern Italian kitchen with many old recipes passed down from our families. Most of our dishes come from southern Italy in Calabria where our parents were born. We have started a brand with Pizza One to offer traditional homestyle Italian cooking with a modern twist. We only use high-quality ingredients to create new recipes that change with the trends. Our passion is seen in our food. Whether you dine in, takeout, or need a party catered, our quality will always leave a lasting impression. From our specialty pizzas to our gourmet salads there is something for everyone to enjoy. We are proud to be a family owned and operated restaurant and we have a strong philosophy.
Putting our customers' needs and concerns above all else. Pizza One is where quality and quantity counts!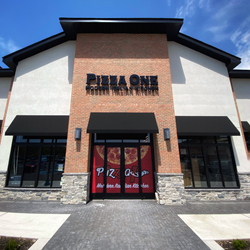 https://www.prweb.com/releases/wayback_burgers_kicks_off_summer_with_free_milkshakes_on_june_20/prweb17171797.htm
Note: We are not responsible for typo error, price change, substitute item, or available of item from online ads.
Lưu ý: Chúng tôi không chịu trách nhiệm về lỗi ấn, thay đổi giá, hàng thay thế, hoặc có sẵn mặt hàng quảng cáo.