Krispy Kreme cho Học Sinh Tốt nghiệp trường Trung học ở Mỹ Miễn phí 1 Tá Donut Thứ Tư ngày 25 tháng 5 năm 2022
Posted On May 25, 2022
Theo tin Krispy Kreme hay businesswire.com
Krispy Kreme cho Học Sinh ra trường trung học ở Mỹ Miễn phí 1 Tá Donut Thứ Tư ngày 25 tháng 5 năm 2022
FREE FOR SENIORS 5/25
Are you a 2022 high school or college senior? Get a FREE Senior Day Dozen on 5/25/22 by visiting a Krispy Kreme shop and wearing or bringing something from the list below!
Eligible items include: Cap and gown with 2022 tassel, Class of 2022 apparel (t-shirt, sweatshirt, etc.), 2022 letterman jacket featuring senior status, 2022 class ring, graduation announcement featuring name with matching ID, student photo ID featuring senior status, and other Class of 2022 senior swag.
Bạn là học sinh năm 2022 của trường trung học hay đại học? Nhận MIỄN PHÍ Ngày Dozen cho học sinh vào 25/5/22 bằng cách ghé thăm cửa hàng Krispy Kreme và mặc hoặc mang theo thứ gì đó từ danh sách bên dưới!
Các mặt hàng đủ điều kiện bao gồm: Mũ lưỡi trai và áo choàng có tua năm 2022, Trang phục năm 2022 (áo thun, áo len, v.v.), áo khoác thư nhân năm 2022 có trạng thái cao cấp, nhẫn đẳng cấp năm 2022, thông báo tốt nghiệp có tên có ID trùng khớp, thẻ sinh viên có ảnh sinh viên có hình ảnh cao cấp trạng thái, và các swag cao cấp khác của Class 2022.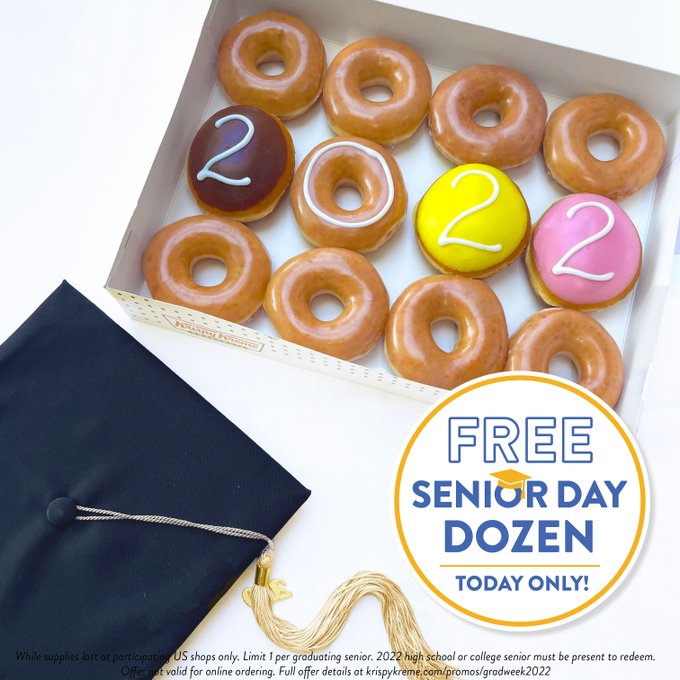 KRISPY KREME® Celebrates Class of 2022 with FREE Senior Day Dozen for High School and College Seniors Wearing Class Swag on May 25
Brand also returns specialty Graduate Dozen, available for purchase starting May 23
May 19, 2022
CHARLOTTE, N.C.
Krispy Kreme is celebrating this year's high school and college seniors – and their dedication and perseverance throughout the pandemic – with a FREE dozen doughnuts May 25 and the return of the Graduate Dozen, available beginning May 23.
"We hope seniors stop by their local Krispy Kreme shop May 25, dressed in their cap and gown or other Class of '22 swag, and enjoy a free Senior Day Dozen."
Tweet this
On Wednesday, May 25, any senior who wears Class of 2022 swag – from shirts and jackets to graduation cap and gown – can get a "Senior Day Dozen" FREE at participating shops while supplies last.
"With the return of graduation ceremonies and a sense of 'normal,' it would be easy to forget how much of these seniors' high school or college years were turned upside down by COVID‑19. We didn't forget, so we're celebrating their perseverance and accomplishments!" said Dave Skena, Chief Marketing Officer for Krispy Kreme. "We hope seniors stop by their local Krispy Kreme shop May 25, dressed in their cap and gown or other Class of '22 swag, and enjoy a free Senior Day Dozen."
Krispy Kreme's free Senior Day Dozen features eight Original Glazed® doughnuts and four custom 2022 doughnuts:
Chocolate Iced Kreme Filled Doughnut is filled with our classic Kreme™, dipped in chocolate icing and decorated with a "2."
Original Glazed, White Iced "0" Doughnut is our Original Glazed doughnut decorated with a white icing "0."
Cake Batter Filled Doughnut is filled with Cake Batter Kreme™, dipped in yellow icing and decorated with a "2."
Strawberry Iced Kreme™ Filled Doughnut is filled with our classic Kreme™, dipped in strawberry icing and decorated with a "2."
In addition, family and friends can purchase a limited-edition specialty Graduate Dozen for celebrations on May 23-24 and May 26-29, made up of the four custom "2022" doughnuts along with fan favorites, including the Original Glazed, Chocolate Iced Glazed with Sprinkles, Yellow Iced Original Glazed with white icing drizzle and Strawberry Iced with Sprinkles. The Graduate Dozen will be available to purchase via drive-thru, in-shop, or by ordering online at Krispy Kreme's website or app, while supplies last.
The Graduate Dozen will not be available May 25 while Krispy Kreme serves up free Senior Day Dozens to as many graduates as possible.
Share how you're celebrating the Class of 2022 with the Senior Day Dozen and the Graduate Dozen by using #KrispyKreme and tagging @krispykreme. Learn more about Krispy Kreme's senior week promotions by visiting www.krispykreme.com/promos/gradweek2022.
About Krispy Kreme
Headquartered in Charlotte, N.C., Krispy Kreme (NASDAQ: DNUT) is one of the most beloved and well-known sweet treat brands in the world. Our iconic Original Glazed® doughnut is universally recognized for its hot-off-the-line, melt-in-your-mouth experience. Krispy Kreme operates in over 30 countries through its unique network of doughnut shops, partnerships with leading retailers, and a rapidly growing e-Commerce and delivery business. Our purpose of touching and enhancing lives through the joy that is Krispy Kreme guides how we operate every day and is reflected in the love we have for our people, our communities and the planet. Connect with Krispy Kreme Doughnuts at www.KrispyKreme.com, or on one of its many social media channels, including www.Facebook.com/KrispyKreme, and www.Twitter.com/KrispyKreme.
Contacts
Tricia Moore
Tricia.moore@fleishman.com
Note: We are not responsible for typo error, price change, substitute item, or available of item from online ads.
Lưu ý: Chúng tôi không chịu trách nhiệm về lỗi ấn, thay đổi giá, hàng thay thế, hoặc có sẵn mặt hàng quảng cáo.