Opportunities for Restaurant Industry Lie in Off-Premise Sales and Increasing Traffic
Theo tin TDn2 hay prweb.com
In June, restaurant same-store sales growth was -0.01 percent year over year according to Black Box Intelligence™ data from TDn2K™. Results are based on weekly sales from over 31,000 locations representing 170+ brands and nearly $72 billion in annual sales.
DALLAS (PRWEB) JULY 12, 2019
Restaurant sales came to a crawl during June highlighting the industry's frequent traffic woes and bringing up new concerns for a sales slowdown during the second half of the year. Same-store sales growth was -0.01 percent year over year in June according to the latest Black Box Intelligence™ data from TDn2K™. This restaurant industry sales update is based on weekly sales from over 31,000 locations representing 170+ brands and nearly $72 billion in annual sales.
Same-store sales growth for the second quarter of 2019 was 0.2 percent, which represents a 0.7 percentage point drop from the growth rate reported for the first quarter. The industry's sales growth has been decelerating since the beginning of the year. Average same-store sales growth for the last two quarters of 2018 was 1.3 percent, while the average for the first two quarters of 2019 is much lower at 0.5 percent.
"Although we would rather see strong positive sales growth consistently at 1-to-2 percent every month, the essentially flat sales growth during June and the small positive growth during the second quarter don't indicate much change for the industry," advised Victor Fernandez, vice president of insights and knowledge at TDn2K. "The reality for the last ten years continues to be the same. Restaurants have suffered from declining guest counts, but the relatively stronger economy of the last two years has enabled rapidly accelerating guest checks to lift the industry into positive same-store sales growth. That pattern continues today, especially when analyzing the results from a longer time perspective."
Although restaurant same-store sales growth has been positive for the last seven quarters (with the exception of the first quarter of 2018, when growth dipped to -0.1 percent), the drop in sales growth in the latest quarter may be a source of concern. But this slowdown seems to be largely a result of the industry lapping over tougher numbers a year ago. When compared with sales two years ago, same-store sales have been positive for the last three quarters.
Additionally, the first two quarters of the year posted exactly the same growth rate of 0.8 percent. When comparing sales over the two-year period, the slowdown in growth during the first half of 2019 disappears. Two-year same-store sales growth averaged 0.1 percent during the second half of 2018; the average for the first half of 2019 actually increased to 0.8 percent.
The Key to Solving the Problem Lies with Traffic
Same-store traffic growth was -3.1 percent during June, representing a 1.0 percentage point drop from May. Traffic growth for the second quarter was -2.9 percent, a 0.9 percentage point decline from the previous quarter's result.
"As long as the industry is not able to at least hold on to current guest counts, achieving sustained same-store sales growth will not be possible, and we will likely continue to see anemic growth rates with 1.0 percent as a best-case scenario for sales," said Fernandez. "Given the existing oversupply in the number of restaurant locations and the fact that, although growing at a slower pace than in recent years, chain restaurants continue adding to their net number of units, falling guest counts on a same-store basis will likely remain the norm in the near-term."
Economy Still Slowly Growing with Modest Consumer Demand Expected
The economy continues to expand moderately, but the inconsistencies in the data are likely pointing to further easing in growth. "Job gains have bounced around but are slowing. The same is happening with vehicle sales. There has been limited improvement in housing sales and business investment remains tepid. The uncertainty over trade overhangs the economy. While a 'cease fire' between the U.S. and China has been called, there are few who expect a major breakthrough to occur anytime soon. Thus, it is likely that the days of 3.0 percent or more growth are behind us." stated Joel Naroff, president of Naroff Economic Advisors and TDn2K economist.
"That said, now the longest expansion on record should be sustained through the remainder of the year, but at a pace closer to trend, approximately 2.25 percent. The implication is that consumer incomes, which are still not growing rapidly, will continue to lag. For the restaurant industry, that means demand should also expand somewhat modestly."
Restaurants Dependent on To-Go Offerings to Grow Sales
The trend of consumers shifting more of their restaurant spending towards to-go offerings and away from dine-in continued during the second quarter of 2019. However, this trend has been accentuated recently. The last three quarters have seen the largest gap between to-go sales growth and dine-in sales; to-go has posted strong same-store sales growth, while dine-in has been declining for years.
"It is to-go sales that are lifting overall same-store sales into positive territory," said Fernandez. "And those brands that are posting the best sales growth results tend to be those that are achieving much higher to-go sales than the industry overall."
Workforce Dilemma Remains Unchanged, Staffing Still Top Concern
The extremely tight labor market continues to be a source of concern for restaurants, which has led to historically high turnover rates and an alarmingly high number of restaurant vacancies. Particularly troubling is the fact that, according to a recent survey by TDn2K's People Report™, almost one out of every five restaurant companies said they are continuously understaffed for their general manager position. Given the large effect management turnover has on hourly retention and engagement, it is not surprising to find hourly turnover rates skyrocketing.
While restaurants continue to face challenges filling those vacancies caused by turnover, they also need to worry about recruiting for new restaurant locations. Since the end of last year, the industry has added jobs at a pace above 2.0 percent year over year every month. This has placed a lot of added pressure on restaurant staffing. Job growth was 2.2 percent in May.
It is not an easy task to solve the deep staffing challenges facing the industry today, but there are restaurant companies that have been simply better at tackling the people part of the business. What are they doing to achieve higher levels of retention and attract top talent? According to People Report analysis of the data, some of those solutions go beyond offering competitive pay and financial incentives (which definitely help). These top-performing brands are creating opportunities for personal and career development for their employees, offering employee recognition that is mindful of the employees themselves and their personal preferences, offering opportunities for enhanced work-life balance and working on creating a strong sense of purpose their workforce can align with and thrive.
Looking Ahead
Looking ahead to the rest of 2019, the expectation is for more of the same: declining traffic in comparable stores offset by rapid guest check growth, restaurants passing their rising costs into menu prices and consumers electing to spend more given the relatively strong consumer sentiment. All of this will only lend itself to small positive same-store sales growth as a result. In addition, the restaurant industry can anticipate continued challenges for restaurant staffing, driven by historically high turnover rates that don't appear to be changing anytime soon.
TDn2K (Transforming Data into Knowledge) is the leading insights & knowledge provider of restaurant industry human resources, financial performance and consumer insights data through their products People Report™, Black Box Intelligence™ and White Box Social Intelligence™. TDn2K allows organizations to leverage benchmarked data to achieve best-in-class performance results. TDn2K currently tracks, analyzes and benchmarks the largest database of real restaurant data in the US that includes 300 companies, 2.6 million employees and nearly $72 billion in annual revenue. TDn2K also produces the Global Best Practices Conference held annually each January in Dallas, Texas.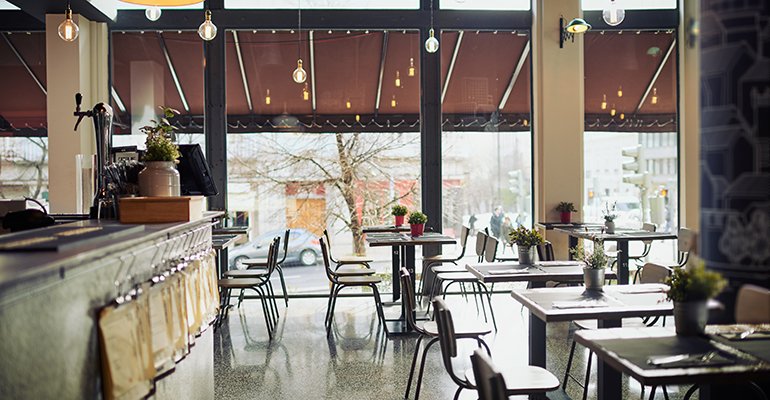 https://www.prweb.com/releases/opportunities_for_restaurant_industry_lie_in_off_premise_sales_and_increasing_traffic/prweb16435792.htm
Note: We are not responsible for typo error, price change, substitute item, or available of item from online ads.
Lưu ý: Chúng tôi không chịu trách nhiệm về lỗi ấn, thay đổi giá, hàng thay thế, hoặc có sẵn mặt hàng quảng cáo.